---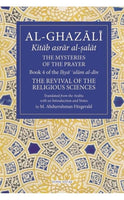 In the Mysteries of the Prayer and Its Important Elements (Kitāb asrār al-ṣalāt wa-muhimātiha), book 4 of the forty books of the Revival of the Religious Sciences (Iḥyāʾ ʿulūm al-dīn), Abū Ḥāmid al-Ghazālī explains the inner and outer meanings of the prayer, a central practice for Muslims. This is one of five books that deal with the inner dimensions of Islamic worship; books 3, 5, 6, and 7 address purification, zakāt, fasting, and pilgrimage, respectively.
Al-Ghazālī begins with a discussion of the merits of the prayer, the prostration, the importance of reverence, and the mosque. He explains the acts involved in the outward elements of the prayer and outlines which of these acts are obligatory and which are sunna. He then discusses the inward requisites of the prayer—the practices of the heart— and presents practical remedies for a distracted heart.
Al-Ghazālī explains the role of the imām who leads the group prayer and the merits of the Friday prayer; he addresses supererogatory prayers, the daily sunnas, and the weekly prayers, including recommendations for each day of the week, and for each night. Al-Ghazālī discusses the annual prayers (the two ʿīds and the tarāwīḥ prayers during Ramaḍān), and finally, the prayers and supplications related to events such as eclipses, the prayer for rain, guidance, and need.
This readable yet comprehensive work covers an array of issues from the essential outward aspects of how to pray, to the inward aspects of the state of the heart during the prayer and how to humble oneself completely. As a practical, yet profound book, it is essential reading for Muslims who seek a deeper comprehension of prayer, and for all those interested in understanding the meaning and place of prayer in Islam.
Product Details
ISBN

9781941610350




Author

Imam Al-Ghazali

Translator

M. Abdurrahman Fitzgerald

Publisher

Fons Vitae

Format

Paperback

Pages

208

Dimensions

15.2(w) x 22.9(h) x 1.3

(d) cm